Scientifically proven effectiveness
One application = 90 days of the supplementation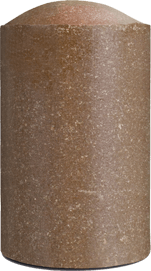 AVERAGE DAILY SUPPLY
OVER 90 DAYS FROM 2 BOLUSES
| | |
| --- | --- |
| Zinc | 466 mg |
| Managanese | 412 mg |
| Copper | 132 mg |
| Lodine | 39,6 mg |
| Cobalt | 9,6 mg |
| Selenium | 3,7 mg |
| Vitamin A | 54 880 IU |
| Vitamin D3 | 8 200 IU |
| Vitamin E | 54,8 mg |
BOLUS TECHNOLOGY
Long term release bolus, 100% digestible ingredients.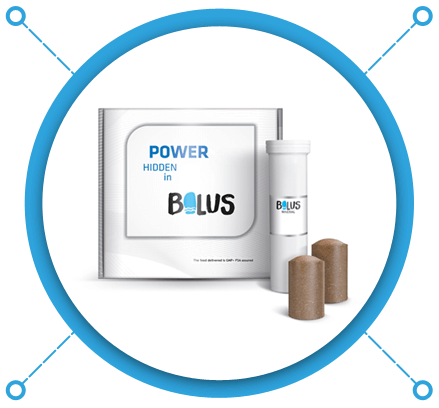 PHYSICAL PROPERTIES
Weight 110 g,
height 54 mm,
Ø 33 mm.
CHEMICAL PROPERTIES
The essential trace elements
and vitamins are released
continuously throughout 90 day.
PACKAGING
Two boluses secured in plastic tube. Eight boluses in one box.
Importance of trace elements and vitamin from bolus
FERTILITY PROMOTION
Improving ovulation and
implantation of the ovum
Support of embryonic
and foetal development
PROTECTING AND STIMULATION
OF THE IMMUNE SYSTEM
Antioxidative activity protects
immune cells against free radicals
Stimulation of lymphocytes
Proven effectiveness of Mineral-Vitamin Bolus
The research was carried out in vivo at the Department of Pathology and Veterinary Diagnostics at the Warsaw University of Life Sciences in The trial was conducted on 24 cows and two boluses were applied to each cows. Blood tests was drawn before bolus application and at specified times intervals after its application. For more information please contact with us.
Effect of Mineral-Vitamin boluses application on microelements concentration in the blood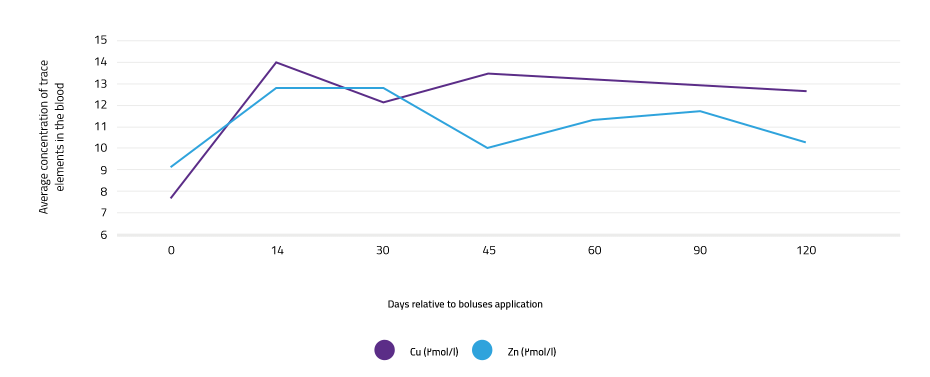 Fertility data of tested cows after
Mineral-Vitamin boluses application
| INDICATOR | BEFORE BOLUSES APPLICATION | AFTER BOLUSES APPLICATION |
| --- | --- | --- |
| Calving interval (days) | 419 | 394 |
| % of cows with oestrus occurred up to 60 days after labour | 91 | 96 |
| The effectiveness of first insemination | 79 | 88 |
| % of cows that become pregnant after 3 treatments | 94 | 98 |
| Number of inseminations per pregnancy | 2.5 | 2.1 |
Summary
The evidence reported in those two trials clearly demonstrates that JFARM boluses release additives in controlled way.
Cows protected by a mineral-vitamin bolus during dry period have better fertility indicators.
JFARM RECOMMENDATIONS
– How to use mineral-vitamin bolus?
As a prophylaxis against of problem with reproduction
due to vitamin and trace elements deficiency
Two Mineral-Vitamin boluses at the beginning of dry
period for every cow
One β-carotene bolus at the 30th day of lactation
for every cow
Heat stress – during heat stress cows decrease
feed intake (intake drops considerably even 15-40%
depending to ambient temperature and relative
humidity)
One or two (depend of region) Mineral-Vitamin
boluses at the beginning of summer for every cow