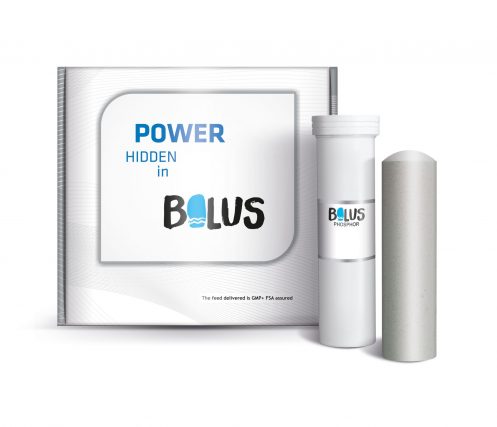 for dairy cows; includes 37 g of phosphorus and 15 g of calcium in one bolus
PREVENTION OF DOWNER COW SYNDROME
Indications:
complementation of phosphorus and calcium deficiency during the periparturient period
especially recommended in case of downer cow syndrome on the background of calcium deficiency
Properties:
contains minimum 37 g of phosphorus and 15 g of calcium in one bolus
includes well digestible sources of P and Ca: monosodium phosphate and monocalcium phosphate
prevents the occurrence of downer cow syndrome and parturient paresis
rapid dissolving in the rumen
all ingredients are digestable
Composition:
Monocalcium phosphate, monosodium phosphate, dicalcium phosphate, magnesium stearate.
Instruction for proper use:
Apply 1-2 boluses orally by using the applicator. If necessary, continue with the application bolus after 12 hours.
Shelf life:
18 months from the manufacturing date.
Packaging:
Each 185 g bolus is secured in a plastic tube.
There are four boluses in one paper box.
Gallery