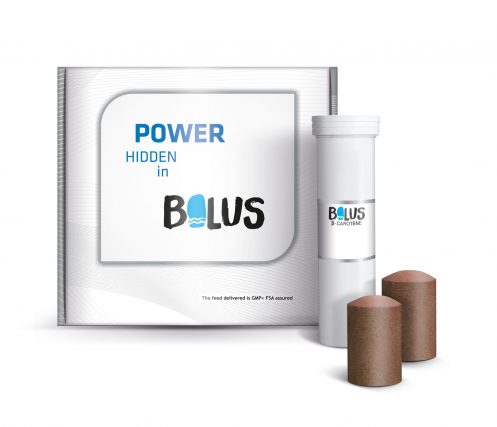 for cows; stands out a 20-day release period of the bolus
SUPPORT THE PREPARATION FOR OESTRUS AND REPRODUCTION
Indications:
support the preparation for oestrus and reproduction
Properties:
prolonged release period – 20 days,
all ingredients are digestible
Vitamin A and beta-carotene affect ovarian follicular growth and steroidogenesis, oocyte maturations and embryo and conceptus development therefore high concentrationthis these additives in one bolus protect from:

delayed ovulation,
hypoplasia of the corpus luteum,
irregular cycles sex,
silent estrus, lack of estrus,
reduced number of fertilization,
extended period between calving
Average Daily Supply over 20 days from one bolus:
| | |
| --- | --- |
| Vitamin A | 99 910 IU |
| Beta-carotene | 80 mg |
| Zinc | 1062 mg |
| Manganese | 600 mg |
| Copper | 395 mg |
| Iodine | 80 mg |
| Selenium | 6,1 mg |
Composition:
Vitamin A, beta-carotene, trace elements: Mn, Zn, Cu, I, Se.
Instruction for proper use:
Cows: 30 days after calving give 1 bolus orally by using applicator. Application may be repeated after 30 days. Before use or before extending the period of use it is recommended to consult with the vet. Use in accordance with the recommendations for the appropriate maximum levels of complete feed. Do not use extra preparations of vitamin A, selenium and copper within 30 days of the product.
Shelf life:
18 months from the manufacturing date.
Packaging:
Two boluses are secured in one plastic tube. Each bolus weighs 97 g.
There are 8 boluses in a paper box.
Gallery