About us
Jfarm is manufacturer of high quality functional, natural health products for cattle, with over 30 years of experience in the animal health industry, specialising in BOLUSES for high yielding cows.
Observing changing needs in ruminant's production with focus on antibiotics reduction, company has developed business profile based on pro-health solutions.
From year 2010, we are specialising in DEVELOPMENT and PRODUCTION of BOLUSES for cows and sheep. Jfarm implemented UNIQUE TECHNOLOGY enable to produce WIDE SPECTRUM of BOLUSES including MORE ingredients.
In August 2018 we opened new professional Bolus production facility with new laboratory.
Jfarm exports products on 3 continents.


Certificates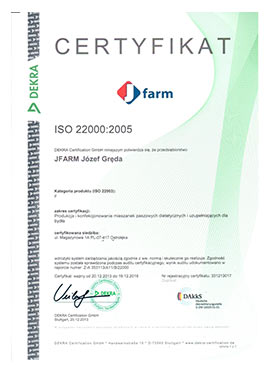 ISO 22000:2005
Safety and quality assurance of the production of compound feed in food safety management system for organizations in the food chain.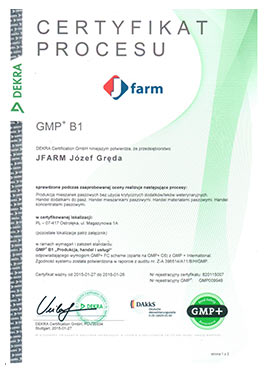 GMP+
Meet international requirements for safety standards of food products for animals. This process ensures high quality and purity of the raw materials used. It also provides complete control over the quality and origin of raw materials.