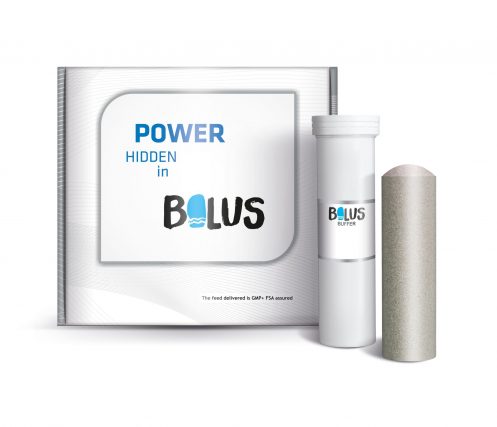 for cattle; possesses high buffer capacity
REDUCTION OF THE RISK OF ACIDOSIS
Indications:
reduction of the risk of acidosis
as a continuation of veterinarian intervention against acidosis
especially for high yielding cows and for ruminants for fattening intensively fed high dose of easy fermented carbohydrates
Properties:
high buffering capacity neutralizes and stabilizes the pH of the rumen
the ability to correct of rumen pH for a long period of time
live yeast saccharomyces cerevisiae – improves health and integrity of digestive tract, changes the composition of bacterial population by increasing in taxa representing fibrolytic and lactic acid-utilising bacteria
all ingredients are digestable
short disintegration time in the rumen
Composition:
Lithothamn (calcareous marine algae), sodium bicarbonate, magnesium oxide, glucose syrup, magnesium stearate, Saccharomyces cerevisiae CNCM I-4407 (4b1702) 8,67×1010
Instruction for proper use:
If symptoms of rumen acidosis occurs, give 1 bolus into the mouth by using applicator. The application period can be extended to 3 days. The opinion of a nutrition expert or veterinarian should be sought before using the feed or before extending its period of use.
Shelf life:
18 months from the manufacturing date.
Packaging:
Each 180 g bolus is secured in a plastic tube.
There are four boluses in one paper box.
Gallery