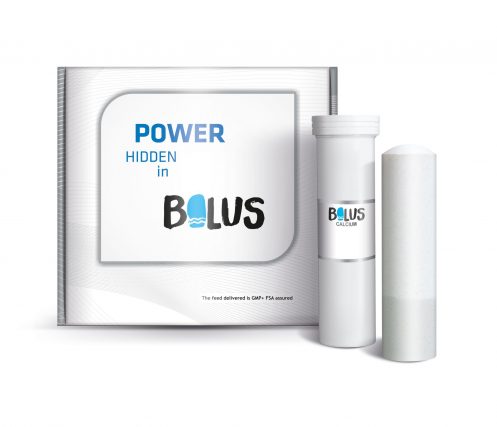 for dairy cows; includes 45 g of calcium ions and 40 000 IU of Vitamin D3 in one bolus
REDUCTION OF THE RISK OF MILK FEVER AND SUBCLINICAL HYPOCALCAEMIA
Indications:
supplementing calcium deficiencies related to the start of lactation
reduction of milk fever and subclinical hypocalcaemia
Properties:
innovative technology – bolus consists of two parts which are characterized by different time of release and absorbtion of calcium, such solution ensures safe and stable level of calcium. All ingredients are digestable
full, one-dose – in one bolus 45 g of calcium ions and 40 000 IU of Vitamin D3
not irritable – product contain only highly available calcium salts that are not irritable for esophageal and rumen and do not affect the integrity of gastrointestinal epithelium. Does not contain chlorides
quick absorbed – calcium formate and calcium acetate contained in the bolus body quickly dissolve in the rumen fluid. Calcium compounds are immediately absorbed by the walls rumen by passive transport
provides a long-term increase in calcium levels – used calcium sulphate is anionic and causes a slight decrease in pH of cow's body. It accelerates transformation of vit D3 to the active form responsible for Calcium absorption in the intestines and enhances hormonal stimulating release of calcium from bones
increase calcium absorption from feed – high dose of Vit. D3 increases active calcium absorption in the intestines and stimulates the immune system
Composition:
Calcium sulphate anhydrous, calcium formate, calcium acetate, Vit. D3.
Instruction for proper use:
In the day of labour, immediately after calving, give 1 bolus into the mouth by using applicator. Repeat administration after 8 – 12 hours. Apply for 2 days after calving. Recommended for use after intravenous calcium application to maintain a safe blood calcium level. Do not give bolus lying cows with symptoms of parturient paresis.
Shelf life:
18 months from the manufacturing date.
Packaging:
Each 175 g bolus is secured in a plastic tube.
There are four boluses in one paper box.
Gallery