Scientifically proven reducing risk of hypocalcemia in dairy cows!
Two parts of a bolus with different disintegration times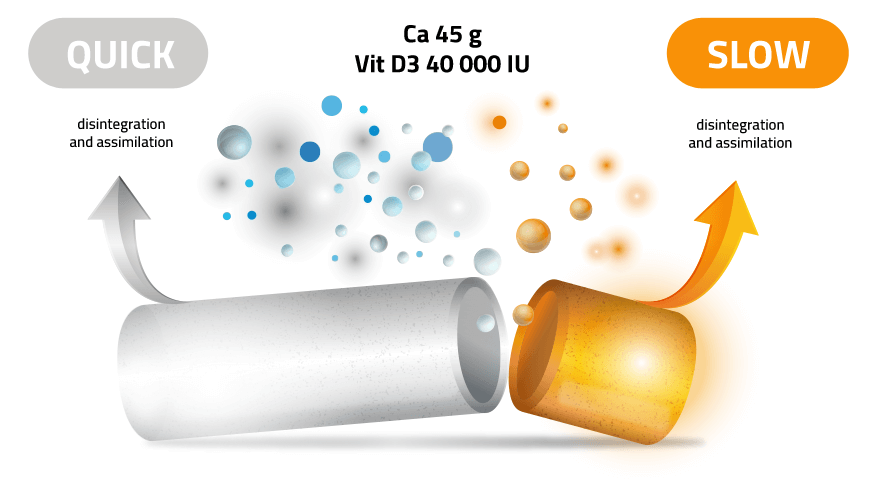 Bolus properties
BOLUS TECHNOLOGY
Two parts bolus, 100% of the ingredients are digestible.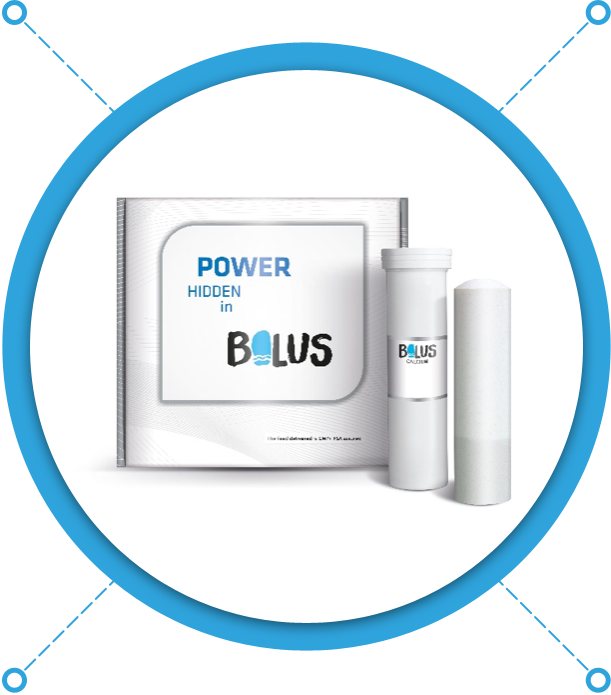 PHYSICAL PROPERTIES
Weight 175 g,
height 120 m,
Ø 33 mm.
CHEMICAL PROPERTIES
Source of calcium: calcium formate, calcium acetate, calcium sulphate. Does not contain chlorides.
PACKAGING
Each bolus secured in plastic tube. Four boluses in one box.
Bolus composition
CALCIUM FORMATE AND ACETATE
Calcium formate and calcium acetate contained in the bolus body quickly dissolve in the rumen fluid. Calcium compounds are immediately absorbed by the walls rumen by passive transport.
VITAMIN D3
High dose of Vit. D3 increases active calcium absorption in the intestines and stimulates the immune system.
CALCIUM SULPHATE
Used calcium sulphate is anionic and causes a slight decrease in pH of cow's body. It accelerates transformation of vit D3 to the active form responsible for Calcium absorption in the intestines and enhances hormonal stimulating release of calcium from bones.
The risk of hypocalcemia is a significant problem in dairy cow farming
Recent studies have demonstrated that 78 % cows at the beginning of lactation present low blood calcium level and although most of them haven't got symptoms of parturient paresis, this state of the body has negative effect on milk yield and fertility of cows. Hypocalcaemia promotes the development of mastitis, displacement abomasum, retained placenta, metritis.
To prevent these disorders in cows, use Calcium Plus Bolus by JFARM. This product consists of two parts which are characterized by different: source, time of release and absorption of calcium – such innovation ensures safe and stable level of calcium in the blood.
The occurrence of hypocalaemia
% of verified cows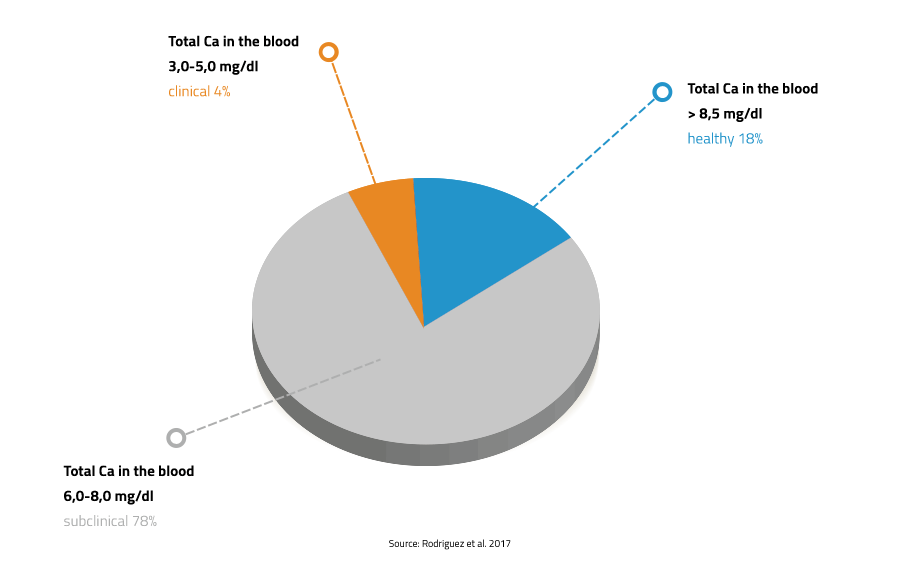 JFARM's Calcium Bolus Plus is an effective tool that provides the cow with 45 g of calcium and 40,000 IU of vit. D3.
Mode of action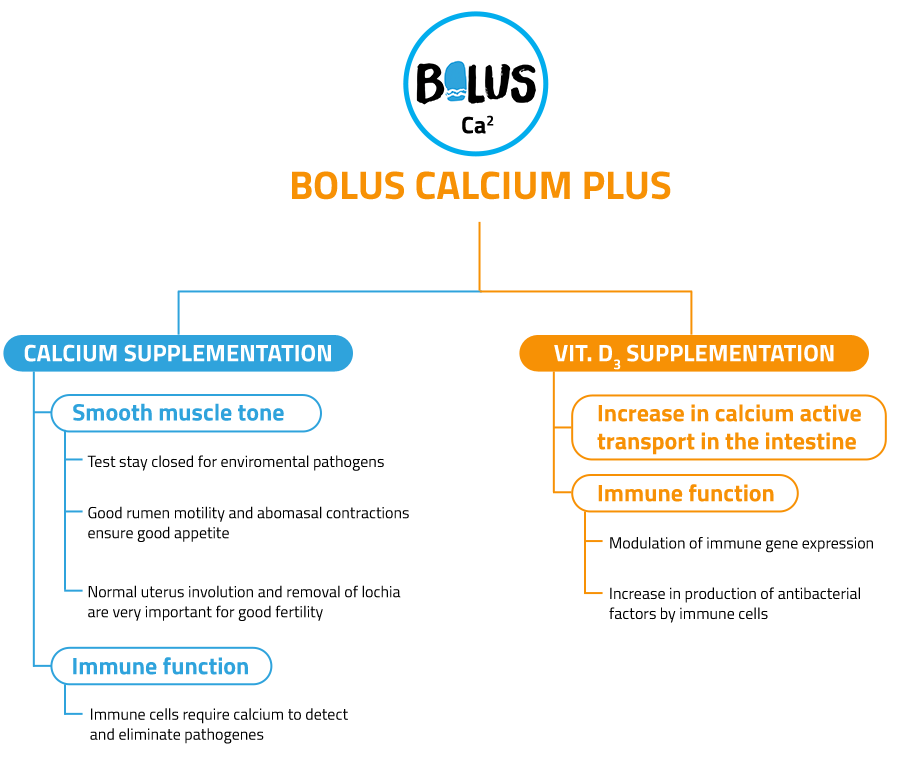 Proven effectiveness of Calcium Plus Bolus
The research was carried out in vivo at the Department of Pathology and Veterinary Diagnostics at the Warsaw University of Life Sciences in 2014. The trial was conducted on 20 cows and bolus was applied at the day of labour and 24 hours after first application. Blood tests was drawn before bolus application and at specified times intervals after its application. For more information please contact with us.
Specific actions of Jfarm Calcium Bolus
compared to other market solutions
Comparison of two different experiments: first – after application of JFARM's bolus (Kleczkowski 2014) and second – after application CaCl2 bolus (Sampson 2009)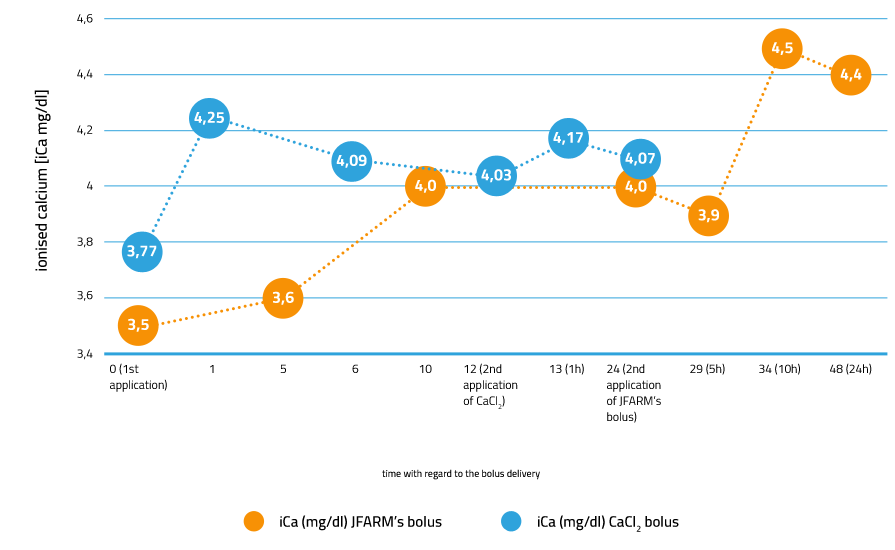 CONSPECTUS:
The dynamics of calcium in the blood after the application of calcium chloride bolus is similar to that after the use of calcium intravenous infusions. A short increase (first 3 hours) is observed, followed by a rapid decrease in blood calcium concentration.
The use of JFARM's boluses guarantees the maintenance of elevated level of calcium in the blood for at least 36 hours.
Reapplication of the JFARM bolus is as effective as the first application. However, the next dose of calcium chloride does not bring the expected increase in blood calcium content.