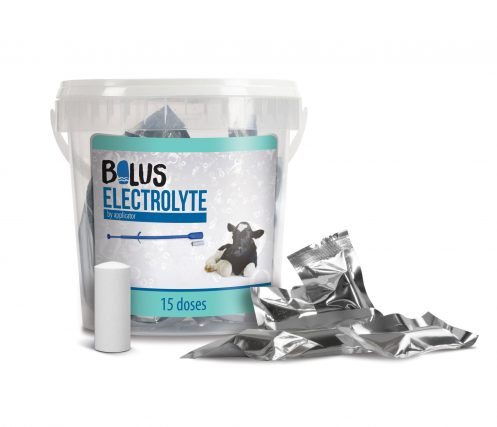 for calves; intended for application directly into the mouth
STABILISATION OF WATER AND ELECTROLYTE BALANCE
Indications:
prevents and during calves diarrhea
recovery from digestive disturbances
stabilisation of water and electrolyte balance
Properties:
provides essential ions that correct osmotic pressure of the body fluids, and are required for water absorption in the intestine.
thanks to high buffering properties it compensates the adequate acid-base balance and inhibits metabolic acidosis
applied probiotic Enterococcus faecium NCIMB 11181 settles in the gastrointestinal tract and inhibits the growth of pathogenic bacteria – ensures balance of the intestinal flora. Beneficial bacteria also strengthen and stimulate the immune system
chamomile acts anti-inflammatory, antibacterial and antiseptic, it regulates the digestive disorders by stimulating the secretion of stomachs bile and preventing excessive fermentation in the gut
quickly restores appetite
Composition:
Sodium bicarbonate, sodium chloride, lactose, potassium chloride, probiotic Enterococcus faecium NCIMB 11181, chamomile flower extract.
Instruction for proper use:
Calves: give 1 bolus by applicator when notice the first signs of diarrhea, repeat the application after a few hours and continue the administration of 1 bolus up to 7 days depending on the need. In the breaks give the calf milk to drink. Ensure calf constant access to water!
Shelf life:
18 months from the manufacturing date.
Packaging:
Each 13 g bolus is secured in an aluminium bag.
There are 15 boluses in one plastic pail.
Gallery