| COMPOSITION PER DOSE [G PER 1 L] | 50 |
| --- | --- |
| K [mmol] | 16,6 |
| Na [mmol] | 138,4 |
| Cl [mmol] | 57,3 |
| glycine [mmol] | 26,5 |
| glutamine [mg] | 2,67 |
| Lactose [mmol] | 79 |
| NaHCO3 [mmol/l] | 95 |
| SID [mmol/l] | 97,7 |
BOLUS TECHNOLOGY
Effervescent bolus
100% digestible ingredients.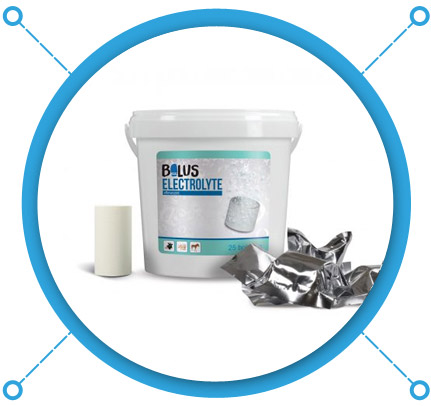 PHYSICAL PROPERTIES
Weight 50 g,
height 46 mm,
Ø 33 mm.
CHEMICAL PROPERTIES
Easy soluble inorganic salts as a source of electrolytes. Lactose as a source of energy. Neutral amino acids to enhance water absorption.
PACKAGING
Each bolus secured with an aluminium bag. Ten boluses placed in a PET box.
The action of Glycine and Glutamate
protection from intestinal damage during endotoxemia,
improved intestinal integrity,
suppressed the inflammatory by regulation of cytokine response in the gut,
improved duodenal villus height,
reduced villi atrophy,
decreased in lesions caused by Eimeria spp.,
neutral amino acids are important for intestinal electrolyte movement.
Figure 1. Recovery of Intestinal villi after Glycine and Glutamate action.