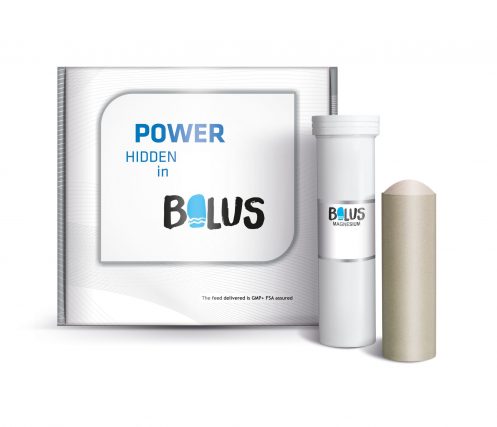 for cattle; stands out a 20-day release period of the bolus
REDUCTION OF THE RISK OF HYPOMAGNESEMIC TETANY
Indications:
reduction of the risk of hypomagnesemic tetany
magnesium supplementation in grazing period and peak of lactation
Properties:
longterm and controlled magnesium supplementation – 20 days
high content of magnesium in 1 bolus – 76g
effective protection against grazing tetany
complement magnesium deficiency also present in the peak of lactation
magnesium deficiency can be one of reasons of postpartum hypocalcaemia
Composition:
Magnesium oxide, magnesium stearate
Instruction for proper use:
Dairy cows, beef cattle above 300 kg of body weight – 2-3 days before going out to pasture give 1 bolus into the mouth by applicator. After 20 days you can repeat application of 1 bolus. Do not serve lying cows. The opinion of a nutrition expert or veterinarian should be sought before using the feed or before extending its period of use.
Shelf life:
18 months from the manufacturing date.
Packaging:
Each 180 g bolus secured in a plastic tube.
There are four boluses in a paper box.
Gallery